Social media is becoming an integral part of classroom participation and communication between students and professors.
Because of this, it is important to keep in mind the accessibility of each post, snap, and story.  Check out UConn's best practices for social media, or download the quick tips guide!
Use the categories below or the best practices to see how to configure different platforms.
Facebook
On a computer or iOS device, you can embed alternate text into a photo.  Facebook recommends using the following process:
Click

 

Photo/Video

 

at the top of your News Feed.
Select the photo you want to add.
Click

 

Edit Photo,

 

then click

 

Alt Text.
The automatically generated text will be shown on the left side of your photo. Click

 

Override generated alt text

 

to edit it.
Write your alt text in the box. To change back to the automatically generated text, click

 

Clear.
To save your alt text, click

 

Save

 

in the bottom right.
To change the alt text of a photo after you've posted it:
Click the photo to open it.
Click

 

Options

 

in the bottom right and select

 

Change Alt Text.
Click

 

Override generated alt text

 

or change the alt text in the text box. You can also click

 

Clear

 

to change your edited alt text back to the automatically generated text.
Click

 

Save.
On an Android device, there are 2 main styles for providing alternate text:
Alternate text that describes the picture in the initial post

If you provide the alternate text in the initial post, we recommend placing the text in brackets and/or writing the words "Alternate text" prior to your description. This will allow users who use a screen-reader the opportunity to prepare for a description of an image.

Alternate text in the comments.
In-post Alternate Text
A great example of using in-post alternate text may be found on the Joshua Tree National Park's Facebook page.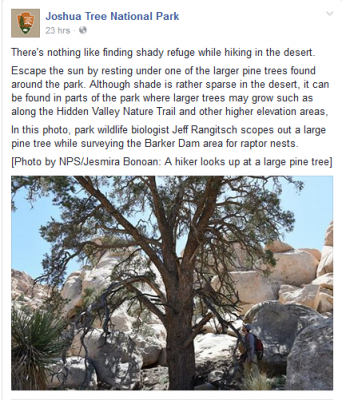 Alternate Text in Comments
If you switch between the two styles of alternate text on Facebook, you may wish to add "alternate text in comments" to your post.  You will also want to make sure that your comments are shown in chronological order.  To change your comments to chronological order, go to the bottom of your post and then click the word chronological or top comments.  This will be next to the names of people who have liked your post.  Make sure the checkmark is next to the word "chronological" instead of "top comments."  Below is a screenshot of this toggle setting.
For an example of alternate text in the comments section, please refer to this post from the UGA Disability Resource Center or the screenshot below, which has alternate text.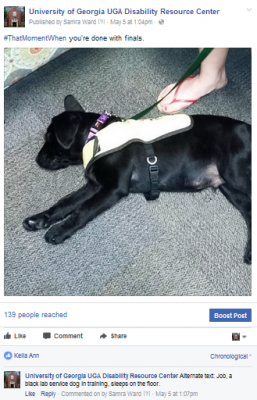 To add captions to Facebook videos, Facebook recommends the following process:
Click

 

Photo/Video

 

at the top of your timeline or News Feed.
Choose a video from your computer, then click

 

Post.
We'll notify you when your video is ready to view. Click the notification or the gray date and time at the top of the post on your News Feed or timeline.
Click

 

 

at the bottom and select

 

Edit Video.
Click

 

Choose File

 

below

 

Upload SRT files

 

and select a .srt file from your computer.
Click

 

Save.
Learn more about captioning Facebook videos and adjusting captions' appearance.  You can also use settings to always show captions on Facebook videos.
Twitter
To enable alternate text for tweets using the official Twitter website or applications, follow these instructions.  Supported applications include:  Twitter for iOS, Twitter for Android, Twitter for web, VoiceOver for Twitter on iOS, Talkback for Twitter on Android, VoiceOver for Mac with twitter.com, JAWS for Windows Screen Reader with twitter.com, and NVDA screen reader for Windows with twitter.com.
Sample Tweet: Alternate Text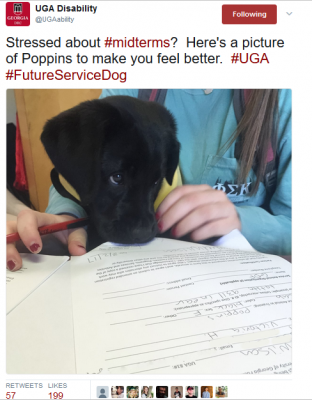 Visible Text: @UGAability:  Stressed about #midterms?  Here's a picture of Poppins to make you feel better.  #UGA #FutureServiceDog
Hidden Alternative Text:  Black lab puppy wearing a guide dog foundation vest peers at service animal registration paperwork
Retweeting Others' Posts
Because alternative text is not easily visible on twitter, check before retweeting someone else's post that has an image.  To check on a Windows computer, right click the image and click "view image info."  A dialog box will pop up, and there will be a section entitled "associated text."  If a custom alternative text has been written, it will appear in that section.
Retweeting: Quoted Tweet
A flier without accessible text was posted with the comment "Let's be real...we all need this!  Free workshop begins January 23."  Because the flier did not have alternative text, a student who uses a screen reader would not know that this was a stress and anxiety workshop or where it meets.  When retweeting, the user quoted the tweet and added "Stressed about classes?  Starting January 23, join the @UGAHealthCenter On Mondays at 12:30 for a stress & anxiety workshop in Ramsey 213!"  This provided access to information for a screen-reader user while also sharing an already-popular post.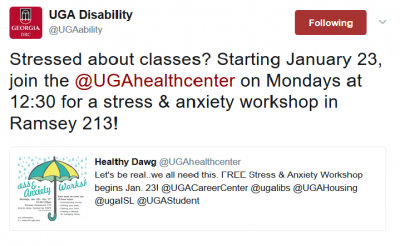 Instagram
You can use alternate text in your Instagram photos to create a more inclusive experience for all users. To add alternate text to an image, use the following process:
Click + to add photo.
Select the photo you want to add.
On the Share page, select Advanced Settings.
Under Accessibility, choose Write Alt Text.
Input your alt text.
to save your alt text, click Save in the upper right corner.
To change the alt text or add alt text to a photo already posted:
Choose the image you would like to edit and select the menu in the upper right corner.
Choose Edit.
Select Edit Alt Text.  This will appear on the image, next to Tag People.
Tap the check once your alt text is complete.
Duplicating Information
Sometimes no alternate text is needed: Comment provides a pretty clear picture
Important to not get so entrenched into the idea of providing alternate text that you are providing duplicate information
Example of duplication
Comment- Catching the sunset tonight at the beach. It is beautiful! #AllTheColors #Sunset
Alternate Text: Beautiful sunset at the beach
Adding Captions to Videos
While Instagram does not support closed captioning, like Facebook does, it is still possible to point viewers to accessible videos.  One suggestion is to post a link to another site that has a captioned version, like YouTube or Vimeo, with your Instagram video.  Another suggestion is to use a third party provider to create open captions, captions that cannot be turned off, and post the video with open captions.  Either way, you are providing a more accessible experience for users with disabilities.  Finally, there are video editors like Clipomatic that allow you to add text to your videos through speech recognition.
---
Last modified June 5, 2019