UConn has contracted with 3Play Media for captioning services.
This includes integrations with YouTube, Kaltura, Mediasite, and other platforms.  Visit the UConn landing page for more information about pricing.  If you are interested in submitting material to 3Play Media for captioning, you can follow these steps to request an account: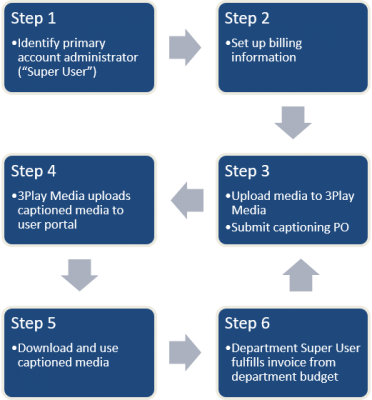 Identify your department's primary account administrator.  3Play Media calls this administrator a "Super User".  Super Users have access to all account information, including billing and purchase order (PO) details.
Determine billing information for your 3Play Media account.  This includes your billing address and KFS number.
Upload media to 3Play Media and submit your first captioning PO.  Read through the different options for turnaround time; standard turnaround is three business days.
3Play Media will caption your media and upload the finished product to your account portal.
You can download and use your captioned media.
The Super User fulfills the monthly invoice, drawing from the departmental budget.
Repeat steps 3 through 6 to submit additional captioning requests.
---
Last modified November 30, 2020